Are you looking for a information about Havana Transportation?
With a surge in travelers to Cuba in recent year, it's become more important to arrange transportation. We will give good information about Havana Transoptions. There are a lot of transportation option in Havana, But of course most of them can be a challenge as public transportation is limited or non-existent.
There is a host of different taxi cars with modern fleets geared toward the tourist trade. They have all been reunited under Ministry of Transport management and, although they continue to carry the names of the previous companies such as Panataxi, Taxi OK, and Transgaviota, they are now all called Cubataxi or Transportation - Taxi and can be called on a central number (tel. 7/855-5555-59). All tourist taxis have meters. Rates vary somewhat, but most of the meters start at CUC$1,5 for the first kilometer and then charge between CUC$.50 and CUC$1.9for each additional kilometer.
Let's See Tranpostation Options in Havana, Cuba
Havana Transportation Options: COCO TAXI
Other options include horse-drawn carriages; the so-called Coco Taxis (tel. 7/873-1411), yellow, round, open-air two seaters powered by a motorcycle; and antique cars that range from a Ford Model T to a 1957 Chevy. Both the horse-drawn carriages and Coco Taxis cost from CUC$5 to CUC$10 per hour, with a minimum of around CUC$3. but be aware they're pretty drafty and they drive fast. Prices should be half of what a state-run taxi will charge you.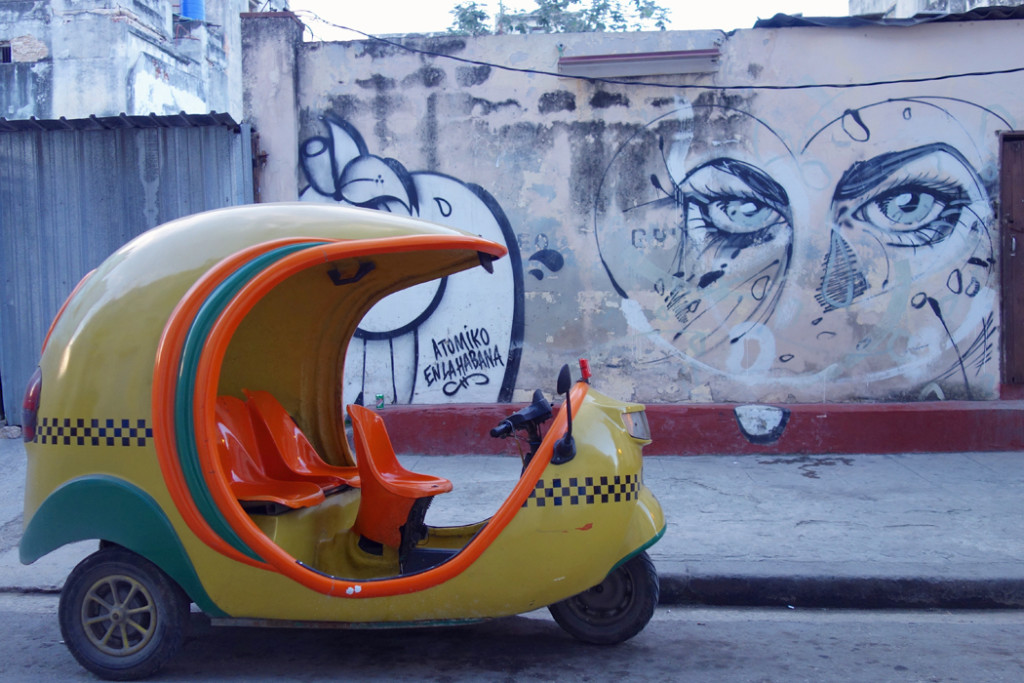 Havana

Transportation

Options: BICI TAXI or RICKSHAWS
Basically a bicycle with two seats in the back that might optionally come with an audio sound system. They're pretty slow depending on the driver so if you're in a rush you should avoid them. Also pretty cheap, a few kms ride will set you back 2-3 CUC. Peso taxis, bici taxis (bicycle taxis), and freelance taxis are lesser options for most tourists. All are illegal for tourists, although it's the driver, not the rider, who is at risk. If you choose one of these options, be sure to fix your price beforehand, and don't be surprised if the driver is somewhat paranoid about the money transfer, and/or refuses to drop you off right at your hotel.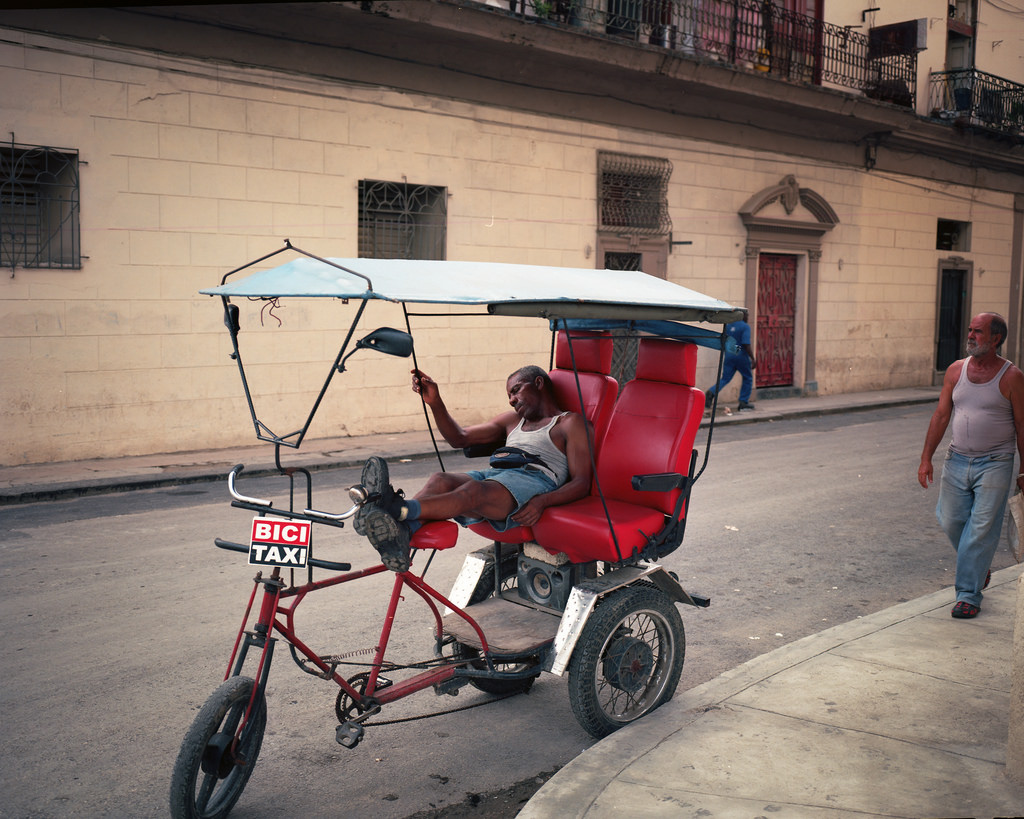 Havana Transportation

Options: HORSE-DRAWN CARRIAGES
If you want to get really colonial as you tour the city's old quarter, you can hire a horse-drawn carriage. The original form of transportation in Old Havana, they are more compatible with its narrow streets and cobblestones. Rides go from 1 hour to 4 hours, with carriages departing from different points. For an extra CUC$10, you can choose to be picked up at your own place. The tours cover Old Havana, Central Havana, some relatively newer parts of the city, and combinations of these three areas.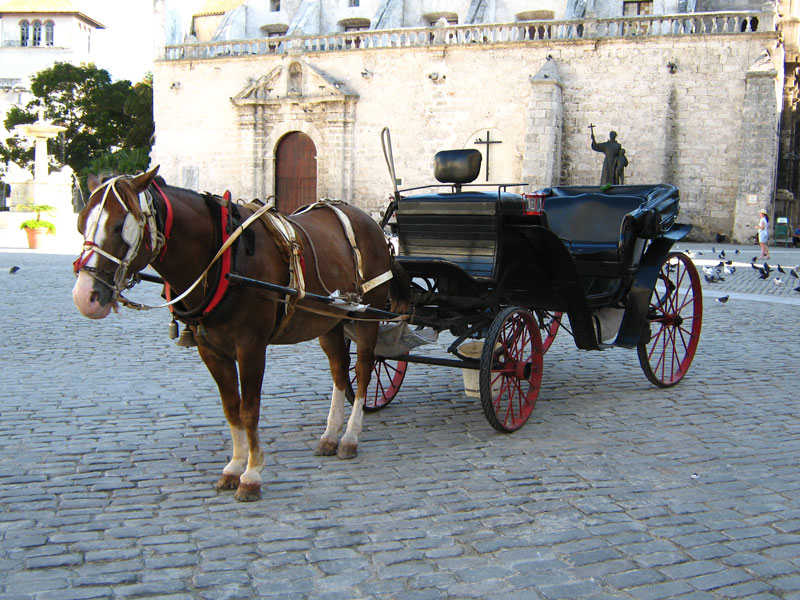 Havana

Transportation

Options: GRAN CAR – VINTAGE CAR –CLASSIC CAR
One of the most popular ways to experience Havana is also one of the most memorable: by cruising around in a chauffeured Chevy, Ford or another American car from the 1950s. Dozens of drivers wait for travelers eager to settle into the carefully maintained leather seats before taking a turn around the capital and pointing out all of the sites you've seen in glossy magazines. Inevitably, your car will tool along the Malecón, Havana's crumbling but atmospheric seaside drive. The selfie stick was made for this moment. Gran Car (tel. 7/881-0992) is the only agent for antique-car rentals. Gran Car rates, with a driver, run CUC$25 per hour or CUC$125 per day, or CUC$30 per hour and CUC$150 per day for convertibles. A four-day trip (with 100km per day maximum) works out at between CUC$110 and CUC$135.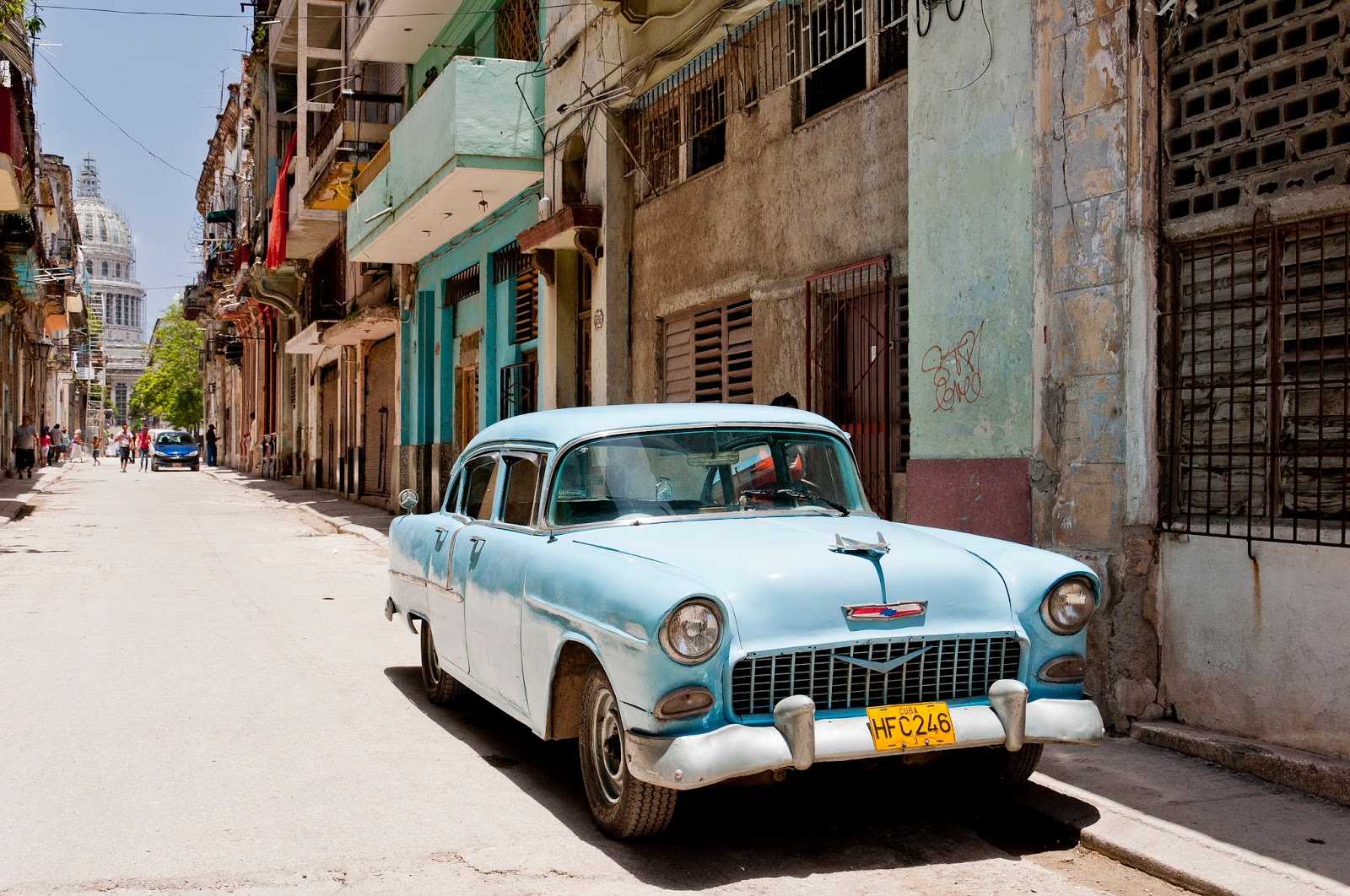 Havana

Transportation

Options: LOCAL TAXI COLECTIVOS – HAVANA
Shared local Cuban taxi, 99% of these taxi's are old American cars and some Russian Lada's or Moscovitch. The old cars like Chevrolets from the '50 recognizable by their taxi signs at the front window. They ride a one-way route, Cubans stand along the route and hop in and out. The Almendrones (Cuban slang for an old car) start their route at Parque Central at the corner of Prado and Neptuno, this is the main route that goes from the corner of Parque Central at the Italian restaurant to Miramar or Marianao. Some of them take Calle 23 - La Rampa (the ones going to Marianao, a reference point should be Ciudad Libertad) and the others take Linea and go to Miramar trough 3rd avenue The way back the route is the same, that will say ... Neptuno is a one wat street, in Centro Havana until the end they go through the Malecon or San Lazaro.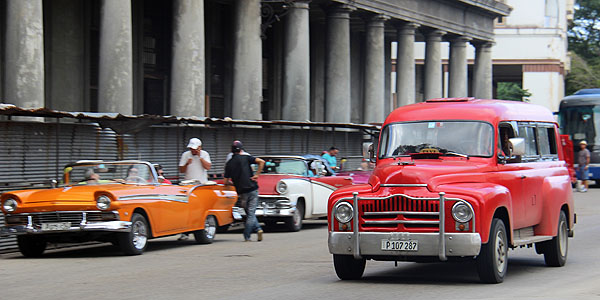 Havana

Transportation

Options: CUBA TAXI - YELLOW LADA
The yellow with black Lada Taxi'ss, will cost you about 0,40 CUC a km. Great to deal with for longer distances. These drivers are not allowed to pick up tourist at hotels. You will find them all over Havana.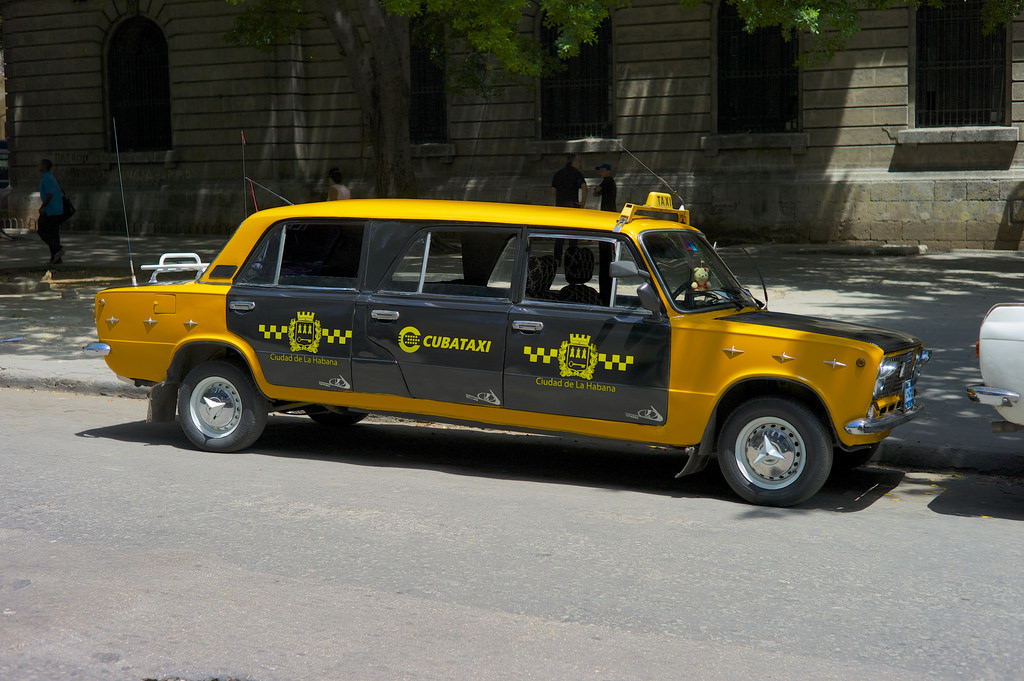 Havana

Transportation

Options: MODERN YELLOW Taxi
One option for getting around is to jump into the taxi mix at the airport. Since winter 2008 all taxi companies work under one name: Cubataxi Be aware that when the taxi has no meter make a price before you get in the taxi. If they have a meter, at daytime the meter code is "1" at night time "4" these numbers calculate a different price per kmTo make it complex, some still work under their old names: Panatax is the cheapest. The most expensive taxis are Turistaxi, Transgaviota and Taxi OK. They are white with red signs and yellow with black signs at the side. From Havana Airport to Havana City center transfer cost between 40-55 CUC.

BEST

Transportation

Option in Havana : HAVANAAIRPORTTRANSFER.COM
A better alternative is to arrange for a taxi to meet you and have the relief of knowing a reliable taxi is waiting for you at pre-paid and with a driver name and car you already know about. You can book your transfer easily for a Modern or Classic car with a few minutes.The Havana Airport Transfer is more than a transfer service.
From the moment you step foot in Havana 'til the moment you return home, we are here to offer you the most personalized and complete travel experience possible. Think of us as your dedicated travel assistants.
Taxi From Havana Airport to Havana City Center
After a long flight, the last thing you need is a headache. The Havana Airport Transfer provides private taxi transfers from both Havana Airport (HAV) in the most personalized and easy way. Book your Havana airport Taxi in advance in order to avoid being overcharged from local drivers. Your driver will be waiting for you at the arrivals hall and will take you to his vehicle which will be right outside of the airport. You will be assisted with your luggage and have a pleasant and relaxed taxi trip to Havana.
Taxi from Havana Airport to Hotel
When it comes to traveling from the airport to your hotel hiring a taxi is the most convenient method since it ensures that you will arrive at your desired location safely and efficiently. In addition, you will not have to struggle by carrying your luggage through the public means of transport and even if your arrival has been delayed, a taxi will always be available to service you. It is advisable to pre-book your Havana taxi trip from the airport. However, if you are traveling from Havana airport (HAV) to the city center of Rome a taxi ride will cost you 35-75 CUC (daytime and nighttime)